As Emmy nomination voting comes to a close, it is as good a time as any at looking at which contenders find themselves as the frontrunners to win the top awards come September's ceremony, which will be hosted by Jimmy Kimmel.
Outstanding Drama Series: Game of Thrones (HBO)
The clear frontrunner, that is looking unstoppable, this HBO juggernaut has gone from strength to strength, and, in the eyes of many, tops last year's season, which took home a record number of Emmys, including it's first win in Drama Series. It even has the potential to go beyond last year's 12 wins, and is once again a massive threat to heavily contest the directing, writing, and supporting acting categories. If you're looking at an upset, PBS' Downton Abbey may receive a goodbye hug, and the Emmys are partial to Netflix's House of Cards, but I would say this is as close to a lock as any race right now.
Outstanding Comedy Series: Veep (HBO)
Similarly to Game of Thrones, Veep is also looking to make it 2 in a row, after finally dethroning Modern Family, which had won 5 years in a row, to take home the coveted Comedy Series prize for the first time. And after another stellar season, despite losing showrunner Armando Ianucci, puts it in pole position to win again. It's also looking pretty safe as it's competition have lost a bit of steam, with both Silicon Valley and Unbreakable Kimmy Schmidt having lacklustre seasons, in comparison to previous efforts from them. If any show is upsetting, it will be Transparent, which had an amazing, albeit dramatic, second season, and you can never underestimate Modern Family, which will contest if nominated (and that's a rather big if). That being said, I think Veep has it sewn up.
Outstanding Limited Series: The People v. O.J. Simpson: American Crime Story (FX)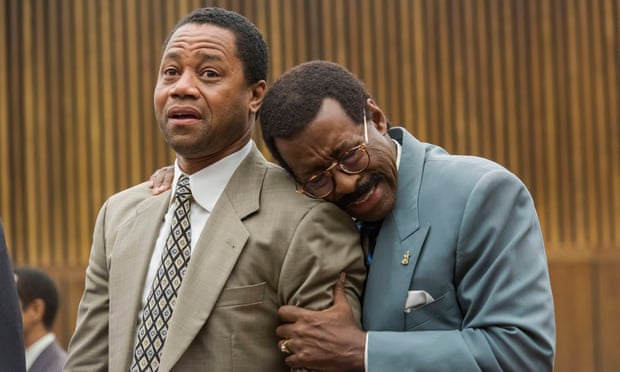 This race is a bit tighter. With former champ Fargo, last year's nominees American Crime, and American Horror Story, History's Roots, HBO's Show Me a Hero, and BBC's The Night Manager, all in the mix, it's difficult to say that this show is the clear frontrunner, but I believe it's just about leading the pack. With universal acclaim, and it being likely to score upwards of 4 acting nominations, The People v. O.J. Simpson has all the ingredients to be an Emmy titan.
Outstanding Television Movie: All the Way (HBO)
As is often the case in this race, the competition for the leading contender is very scarce. Despite competition from another HBO Movie, Confirmation, I can't see any scenario other than All the Way winning here, especially as Bryan Cranston is a likely winner in Lead Actor, and that HBO have won this category in 19 of the last 21 years. It'll be this or Confirmation, but All the Way should just have the edge.
Outstanding Lead Actor in a Drama Series- Kevin Spacey (House of Cards)
Without last year's winner Jon Hamm (Mad Men), Bryan Cranston (Breaking Bad), and Jeff Daniels (The Newsroom), not in the picture, we're guaranteed to get a new winner here. Kevin Spacey fits the bill to win, as he has been nominated for the last 3 years, winning a Golden Globe and 2 SAG Awards in that time, for House of  Cards. The spoilers could be Critics' Choice winner Rami Malek (Mr. Robot), or Bob Odenkirk (Better Call Saul).
Outstanding Lead Actor in a Comedy Series- Jeffrey Tambor (Transparent)
Finally winning his first Emmy last year, Jeffrey Tambor is really in the front seat to win again for his performance on Transparent. Along with his Emmy win, he's also won a Golden Globe, 2 Critics' Choice Awards, and a SAG Award, but the only way he doesn't win is if voters go for someone funnier. That may lead the way for an Aziz Ansari (Master of None), or Anthony Anderson (Black-ish) to spoil.
Outstanding Lead Actress in a Drama Series- Viola Davis (How to Get Away with Murder)
This is the race that makes me so glad that there's still 2 and a half months to go. It's currently on a knife-edge, between last year's winner Viola Davis, and 3-time nominee Robin Wright. I'm going for Davis for now as, if in doubt, you go for the previous year's winner. The fact that Wright hasn't won yet, even in weaker years, suggests that the voters aren't too keen on her, but that could make her seem overdue. What she does have in her favour is that House of Cards gets a lot more nominations, and has a better reputation, than How to Get Away with Murder. This one's close.
Outstanding Lead Actress in a Comedy Series- Julia Louis-Dreyfus (Veep)
She's won this award 4 years in a row for Veep, her main competition isn't coming back, and Veep is winning Comedy Series. She's a lock.
Outstanding Supporting Actor in a Drama Series- Peter Dinklage (Game of Thrones)
While many have said that he hasn't had his best season, but I think voters will want to award an actor from the show. That was the logic last year, even though Jonathan Banks was the far superior contender. Banks, and Christian Slater, will challenge, but Dinklage should be fine.
Outstanding Supporting Actor in a Comedy Series- Tituss Burgess (Unbreakable Kimmy Schmidt)
I think they'll be one result that will show that the positive vote is in full swing, and this seems the right fit as there is no clear frontrunner. Burgess was unlucky to lose last year, and surely Tony Hale and Ty Burrell can't win their third Emmys? Unbreakable Kimmy Schmidt is looking like it could get a fair few nominations this year, and this is it's most likely victory.
Outstanding Supporting Actress in a Drama Series- Christine Baranski (The Good Wife)
Emmy favourite Baranski is yet to win for The Good Wife, and it's her last chance to win one for the show. Her main competition is Uzo Aduba, but surely she can't win 3 years in a row? Baranski could easily get a Jon Hamm-esque goodbye hug.
Outstanding Supporting Actress in a Comedy Series- Allison Janney (Mom)
Like Louis-Dreyfus, Janney has dominated this category in recent years, winning 2 in a row for Mom, despite the Emmys giving very little love elsewhere to Mom. Maybe Anna Chlumsky could break through this year, but she had a better chance last year (which is why I predicted her to win). It'll probably be Janney.
Outstanding Lead Actor in a Movie/Mini-Series- Bryan Cranston (All the Way)
With 4 Emmys under his belt for playing Walter White on Breaking Bad (he also won 2 for producing the show), and a recent Oscar nomination for Trumbo, Cranston is almost a certrainty to be back on the podium for All the Way, a performance that won him a Tony back in 2014. His main competition is Courtney B. Vance, who could be a dark horse if we see The People v. O.J. Simpson triumph in other categories.
Outstanding Lead Actress in a Movie/Mini-Series- Sarah Paulson (The People v. O.J. Simpson)
After receiving nominations for 4 consecutive years without winning, it is surely time for Sarah Paulson to win her coveted first Emmy. Despite being the undoubted the star of The People v. O.J. Simpson, Paulson faces tough competition to be victorious, as Kerry Washington (Confirmation), and Kirsten Dunst (Fargo) are already locks for nominations, and will be tough to beat for their equally critically acclaimed performances.
Outstanding Supporting Actor in a Movie/Mini-Series- Sterling K. Brown (The People v. O.J. Simpson)
In a category full of worthy contenders, this is probably the most difficult to call, as no one is guaranteed even a nomination, let alone a win, mainly due to the surprisingly strong actors trying to get in. For now, I'm going for Sterling K. Brown to win for his bravura performance in The People v. O.J. Simpson, but Jesse Plemons (Fargo), Anthony Mackie (All the Way), Forest Whitaker (Roots), and Brown's cast mate John Travolta are all hot on his heels.
Outstanding Supporting Actress in a Movie/Mini-Series- Jean Smart (Fargo)
As Fargo is unlikely to win anywhere else, I see them getting their chance on stage with Jean Smart winning her 4th Emmy for her role in Fargo. However, this isn't a certainty as Melissa Leo (All the Way), and last year's winner Regina King (American Crime) will also be looking for victory.
The Primetime Emmy Awards nominations are announced on July 14th 2016, ahead of the ceremony on September 18th 2016.