An interesting race this year, which isn't as set in stone as one would think.
Anthony Anderson- Black-ish ("Hope")
This is Anderson's second consecutive nomination for ABC's Black-ish, after receiving a shock nomination last year, the show's only nod, and received this nomination as the show broke through for its first nomination in Outstanding Comedy Series. In this episode, Anderson's Dre, alongside the rest of the Johnson family, watch the news as Dre's children ask questions about police brutality against black people. This leads to a moral struggle for Dre and Tracee Ellis Ross' Rainbow, as they wonder how to address this subject matter to their children. This is a much more dramatic episode than we would normally expect from the show, and allows Anderson to show off some of his acting chops, which is probably a wise move considering a surprisingly dramatic field. He gets to deliver some big speeches, even if they're not as natural as they could have been, and doing voice-over narration for the show certainly helps his cause, as well as a few comedic cutaways. However, clocking in at just under 22 minutes, it is the shortest submission of the 6, and I think the powerful episode is a better showcase for the show's quality, rather than necessarily Anderson's acting.
Aziz Ansari- Master of None ("Parents")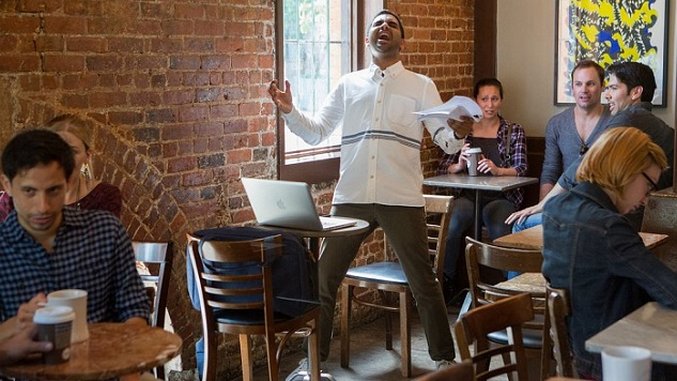 The actor from a new show nominated, Ansari earns his first acting Emmy nomination for playing Dev on Netflix's Master of None, which he has also been nominated for in Directing, Writing, and Producing. In this episode, Ansari's Dev decides to reconnect with his parents and starts to become willing to find out more about how they came to the U.S. from their native India. Dev also auditions for a role in a new sci-fi movie, which provides Ansari with more showcase to show his acting ability. While Ansari certainly had better choices of episodes from the series, such as "Nashville", and "Finale", he's still pretty good here, showing great chemistry with his real-life father Shoukath Ansari, who plays Dev's father, and Kelvin Yu's Brian, even though his performance is rather underwhelming. Ansari really shines in scenes where he is auditioning, especially in the coffee shop, in which Ansari does some great, big, comedic acting, but, as a whole, he could have definitely chosen better.
Will Forte- The Last Man on Earth ("30 Years of Science down the Tubes")
A second consecutive nomination here for Forte for this role, cementing his place as an Emmy favourite as this is now his 5th nomination of his career, though he is without a victory thus far. Forte was even perhaps fortunate to get in here, as it was the only representation for FOX's The Last Man on Earth, which earned writing and directing nominations last year alongside Forte's somewhat surprising nod. In this episode, the Season 2 finale, we see Forte's Phil Miller return to his home town of Tuscon to see his brother Mike, played excellently by Jason Sudeikis, who is dying from "the virus". While it is quite an emotional episode, it's still probably the most comedic of the 6, as there are plenty of pranks between Phil and Mike which are quite funny. And while I believe that Sudeikis gives the stronger performance in this episode, it's still a pretty good submission from Forte, who has a couple of sweet speeches, culminating in an emotional scene towards the close of the episode where Phil gives Mike his 'buddies', the balls that were heavily mentioned in season 1, as Phil goes back to Miami. I think Forte had better choices, such as "C to the T", but I think episode helps his minimal chance of winning, due to the range he shows.
William H. Macy- Shameless ("I Only Miss Her When I'm Breathing")
Since Shameless' move from Drama to Comedy in 2014, Macy has got in every year, but I think he may consider himself to get in this year as he is the only representation for the show, as reigning Comedy Guest Actress champ Joan Cusack didn't even appear in the latest season. And despite having the advantage of having an episode that is twice as long as the next longest episode submission of the 6, clocking in at just over 56 minutes, even though this doesn't give him a massive advantage, as he only appears in roughly 20 minutes of the runtime. In the episode, Macy's Frank Gallagher is mourning the loss of "the love of his life" Bianca, so much so that he is sleeping next to her grave. Frank then attempts to find himself through religion, while his friends and family are soon getting fed up of his constant sorrow. It's not a very funny episode, but does certainly show Macy's real talent, and he shows how perfectly he fits the role as he is tragic yet pathetic at the same time. There's a lot of scenes of deep emotion with plenty of crying scenes, and delivers a good speech in confession, before a tirade at fellow church goers. He suffers from Shameless being such an ensemble heavy show, and a dramatic one at that, but what he does in this episode in his time on screen is very impressive.
Thomas Middleditch- Silicon Valley ("The Empty Chair")
Despite HBO's Silicon Valley being on the air for 3 seasons now, and has earned many Emmy nominations along the way, it had always come up short in the acting categories. This changed this year as Middleditch finally earned his first nomination here for his portrayal of Pied Piper founder Richard Hendricks for the show's comparatively lacklustre third season. Many fans and critics have pointed Middleditch's way for the season's shining light, and that is shown in this episode. It sees Middleditch's Richard try to sort out the mess that his company has become following the firing of new CEO Jack Barker. Richard tries to prove that he is the best candidate to fill the titular empty chair, but almost ruins his chances after accidentally spilling the beans on his company's troubles to an online blogger. While Middleditch certainly had funnier choices, such as the following episode "Bachmanity Insanity", this is certainly a very good submission nonetheless, as he gets to do some big speeches, including his tell-all to the blogger, and some good physical comedy, with his trademark ticks and all. One would have thought that Middleditch would have broken through before now, especially considering the show's success with the Emmys thus far, but it's great that he's finally got his due. He won't win, but it's good to see him there, and this episode proves that he certainly isn't out of place here.
Jeffrey Tambor- Transparent ("Man on the Land")
Reigning champion Tambor returns to this category as heavy favourite once again for his critically lauded role on Amazon's Transparent, which has seen him win every major award (Emmy, Golden Globe, SAG, and Critics' Choice Award). In this episode, Tambor's Maura is taken along by her two daughters to a women's festival. However, Maura starts to feel uneasy at the festival, especially after finding out that the festival has a strict policy for it only being for "women born women". It's a great showcase for Tambor's commitment to the role, pulling off both comedic and dramatic work with equal a plomb, especially in a scene in which he is arguing the case for trans women to be considered as much as a woman as the others. However, what lets down Tambor a little bit is lack of screentime- Maura was more of a supporting character in season 2, and even though this is by far the best choice of submission for him, he's still only in about half of it. As far as acting is concerned, Tambor is by far the best of the 6, and would be a worthy winner, but I think you have to watch his work over the course of the season to know that.
Quality of Episode
Thomas Middleditch
Jeffrey Tambor
William H. Macy
Will Forte
Anthony Anderson
Aziz Ansari
Likelihood of Winning
Jeffrey Tambor
Anthony Anderson
Aziz Ansari
Thomas Middleditch
William H. Macy
Will Forte