Anna Chlumsky- Veep ("C***gate")
This is Chlumsky's fourth consecutive nomination for playing Amy Brookheimer on HBO's Veep. And, with the show winning Comedy Series last year, one would have thought that she would have won by now (I remember predicting her last year after having a great episode submission), but she is still yet to win, even though her co-stars Julia Louis-Dreyfus and Tony Hale have won 6 Emmys between them. In this episode, Amy is in put in charge of an investigation into who called Louis Dreyfus' Selina Meyer the c-word after an allegation was leaked to the press. While this is difficult for Amy at first, as she thinks that she is the guilty party, it soon turns out that she's not the only one that can take responsibility. Overall, this is a poor submission for someone as talented as Chlumsky, as she gets little to do, and she doesn't get to show the kind of range that we're used to seeing from her in the show. And while this sub-plot that she's in is pretty strong, and she does get to control scenes with her trademark dominance, the show is too ensemble based for her to stand out, and she ended up being outshone by the likes of Hugh Laurie, Timothy Simons, and Tony Hale, who is better in this than his actual submission. I think this hurts her chances to win, but she'll be hoping that episodes don't matter anymore.
Gaby Hoffmann- Transparent ("Bulnerable")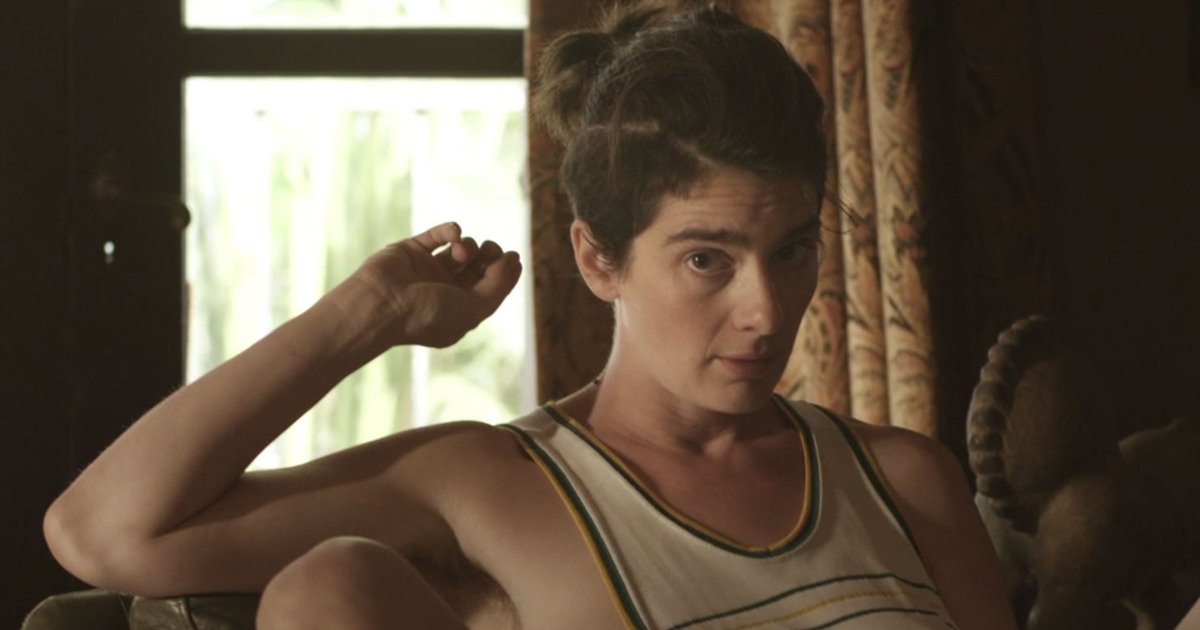 A third nomination in two years, after receiving recognition for both Transparent and Girls last year, Gaby Hoffmann is starting to become one of the Emmys go-to actresses, proven by being nominated again here, despite her having a comparatively weak season playing Ali Pfefferman on Amazon's Transparent. While she was the only female actress nominated from the show last year, she's joined by her cast-mate Judith Light this year, which may hurt her chances of winning. In this episode, Ali is struggling to work out what to write her thesis about, and asks the advice of Cherry Jones' Leslie by going to her home, and sees her ending up becoming cast under her spell, so to speak. This is an OK submission overall, certainly a memorable one, but doesn't exactly showcase a whole load of acting chops. To be fair to Hoffmann, she didn't have the greatest of seasons on the show, and even in this episode she's outshone to a certain degree by Jay Duplass, Kathryn Hahn (who's AMAZING in this episode), and even Judith Light, which certainly helps her chances as she has a great couple of scenes. That being said, Hoffmann does get some time to shine: in her scene opposite Carrie Brownstein, she gets to be flirty, playful, and fun, while opposite Cherry Jones, who she shares quite a few scenes, she sets the right tone, her character gets high (which is often seen in successful submissions), and has a natural, low-key presence, which is fitting of the show. However, I really don't think she has much of a shot this year.
Allison Janney- Mom ("Terrorists and Gingerbread")
The winner in this category for the last two years, Allison Janney is back for the third time for her performance as Bonnie Plunckett in CBS' multi-camera sitcom Mom. Despite Janney's wins for the show, this was the first year that Mom has been recognised in other categories, and that was only in multi-camera picture editing, and multi-camera cinematography. That shows how great, and how admired, Janney is: that she can still win Emmys (she has seven in total) for a show that the Television Academy are yet to properly fall for. In this episode, Bonnie's dying mother, played by Ellen Burstyn, is trying to reconnect with Bonnie before she passes away, something Bonnie doesn't exactly warm to due to her giving her up for adoption as a child. The episode only really has 4 characters, and all of them are played masterfully, none more so than Janney, who shows range, and emotion, portraying Bonnie's moral struggle with ease. This is a really great submission, and her scenes with Burstyn are just electric, and with co-star Anna Faris, she also shows off her great comedic chops, with brilliant deadpan delivery, as well as touches of physical humour. With an episode as good as this, I have no doubt that Janney will be picking up her eighth Emmy on September 18th.
Judith Light- Transparent ("Flicky-Flicky Thump-Thump")
This is Judith Light's first nomination in this category for her role as Shelly Pfefferman on Amazon's Transparent, and her second Emmy nomination of her career, the other one coming for her guest role on Ugly Betty, which is surprising if you consider how long she's been one of the best character actresses on television in the last few decades. In this episode, Shelly is starting to reconnect with Jeffrey Tambor's Maura romantically for the first time since Maura came out as transgender. This leads to a sexual encounter while Shelly is in the bath, and a few heads turning as they arrive together at their son's pool party. This is a pretty good showcase for Light, and was the obvious submission for her from season two, in which she had more of an elevated part than in season one. The scene with Tambor in the bathroom is simply magnetic, and Light also gets to show her fun, and eccentrically cranky side that has made Shelly such a fans favourite from the show. As a massive fan of the show, I'm delighted to see her nominated. And while I don't necessarily see her winning, due to her not getting into the top eight-strong category last year, an upset certainly isn't out of reach, mainly due to how good she is here.
Kate McKinnon- Saturday Night Live ("Host: Ariana Grande")
A third successive for Kate McKinnon for her work on NBC's sketch series Saturday Night Live, as she is seemingly the 'chosen one' of the current SNL cast. And with her Hillary Clinton impression going viral every week, and her recently starring in Ghostbusters, McKinnon is hotter than ever. In this episode, hosted by Ariana Grande, McKinnon plays Clinton in a spoof advert of her turning into Bernie Sanders; a blob fish-mermaid hybrid; a singer in "This is Not a Feminist Song"; Tilda Swinton on Celebrity Family Feud; and a nun in a Sound of Music parody. In the sketches that McKinnon is in, she certainly delivers, but struggles to stand out, and doesn't exactly get to showcase her full acting chops, even though she gets to do some great impressions, which are naturally spot-on. Her performance in the mermaid sketch is pretty good, and certainly transformative (but some less eagle eyed viewers may not recognise that it was her), and her Clinton impression was by far the best thing in the episode. This is more of a box-ticking episode submission, fitting everything that has made McKinnon a hit on the show, but it still felt a bit cramped for her to really shine.
Niecy Nash- Getting On ("Don't Let It Get In You or On You")
A second consecutive nomination for Niecy Nash, following her jaw dropping nomination last year, for her portrayal of Didi Ortley on HBO's medical comedy Getting On. It was a real shock to see Nash get in last year, and many Emmy punters thought that she only just made the cut to get into the 8-strong line-up, and would be the one that gets left out this year. However, she proved many wrong by getting in again, for the show's third and final season. In this episode, Didi is dealing with her family as they come to visit her in the hospital after finding out that she let her mother in law leave the hospital, and go home, where she is monitored.  Meanwhile, Didi and the rest of the staff are swept off their feet after a group of pensioners are suffering from a virus following a cruise trip. This is an OK showcase for Nash, but a pretty terrible episode overall. It's a memorable episode, due to a specific scene featuring Mel Rodriguez and a patient with bowel issues which will haunt my mind for days to come, but that does make Nash a bit of an afterthought. She gets a couple of decent speeches, and gets to sing as she comforts Alex Borstein's Dawn towards the end of the episode, but it's not massively satisfying as a whole. But that might be me being biased as I'm not a massive fan of the show, but if you want to win in this category, I think you have to be in a better show than this.
Quality of Submission
Allison Janney
Judith Light
Gaby Hoffmann
Kate McKinnon
Niecy Nash
Anna Chlumsky
Likelihood of Winning
Allison Janney
Anna Chlumsky
Kate McKinnon
Judith Light
Niecy Nash
Gaby Hoffmann